Delicious recipes from Ruby Bhogal
We're delighted to announce we have teamed up with 2018 Great British Bake-Off finalist, Ruby Bhogal, to share two exclusive recipes using California Walnuts.
Featuring a lip-smacking lunch recipe and a delicious dessert, these dishes are guaranteed to impress!
"California Walnuts are one ingredient I always make sure I have to hand. I keep them in the fridge to make sure they don't lose any of their taste, goodness or crunch! Walnuts add taste and texture to a whole range of sweet and savoury dishes. I add them to all of my favourite bakes such as banana bread, brownies and coffee and walnut cake, they taste great in open sandwiches and salads, as a topping on porridge or yoghurt and as they are a source of protein, walnuts make a great alternative to meat in dishes. On top of all of that, just a handful* of walnuts offers protein, fibre and omega-3 ALA and benefits for heart, gut and cognitive health too! There's a whole lot of goodness and flavour in those little nuts!
*Approx. 30g"
Ruby Bhogal
Griddled Pear, Dolcelatte & California Walnut Open Sandwich
This quick and easy open sandwich takes less than 10 minutes to prepare and is the perfect combination of sweet and savoury flavours. Featuring griddled pear, Dolcelatte cheese and a honey and white wine vinaigrette, lunchtimes have never looked so appealing!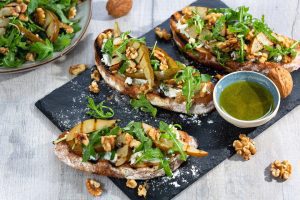 Chocolate, California Walnut & Apricot Panforte
Calling all chocolate lovers! Combining chocolate, California Walnuts and apricots, this traditional Italian dessert is sweet, sticky and impossible to resist!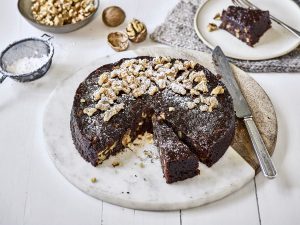 As well as creating these two tasty recipes, Ruby also joined us on the California Walnut Harvest Tour last month. Ruby visited the Sacramento Valley Orchards to see the walnut harvest in action, meet the producers, and learn how walnuts are shaken straight from the trees, washed, dried and packaged ready for their destination.