7 simple ideas for using California Walnuts
As part of our 7 ways with California Walnuts campaign, we're sharing 7 quick and easy ideas to enjoy California Walnuts. Whether you use them as toppings, add to your favourite dishes or simply enjoy them as a snack, there's so many simple ways California Walnuts can be incorporated into your diet.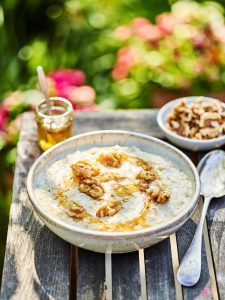 Take a look at our 7 suggestions below:
1️⃣ Great to add texture and flavour to porridge or Bircher muesli, simply toast a handful of California Walnuts, roughly chop and stir in or simply scatter on top.
2️⃣ Mix toasted California Walnuts with dried apple slices and dried mango with raisins for a quick and healthy snack alternative for eating on the go or in packed lunches.
3️⃣ To add extra flavour to homemade chicken or fish goujons, finely chop some California Walnuts and mix into the breadcrumbs, then coat the chicken and fry as normal.
4️⃣ To add interest to white fish, top with a mixture of finely chopped California Walnuts, parsley and breadcrumbs with a spoonful of tomato pesto and then roast.
5️⃣ For a quick light lunch or side dish, boil corn on the cob and brush with butter, then sprinkle over chopped California Walnuts mixed with chopped coriander and red chilli.
6️⃣ To add a twist to cheese on toast, sprinkle the bread with chopped California Walnuts and a little tomato or onion chutney then top with grated cheese and grill until golden.
7️⃣ Add extra crunch and flavour to coleslaws and potato salads by stirring in some roughly chopped California Walnuts, a great way to impress at a barbecue.
Next week we'll be sharing 7 brand new recipes, which all use California Walnuts. Watch this space…