Get #ChristmasCracked with our Festive Menu
"I love cooking with California Walnuts. Their unique taste and texture means they're a super versatile ingredient for all kinds of festive dishes – not just for cracking! So whatever you're cooking up in the kitchen this winter, California Walnuts are a true Christmas Star!"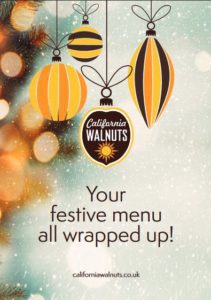 We've teamed up with actress, presenter and home cook Lisa Faulkner to create a Christmas menu packed with a host of tasty ideas from nut roasts to puddings! Our Festive Menu includes a sensational selection of starters, mains, sides, canapes and desserts to help take the stress out of deciding what to make over the festive period.
Lisa has developed three brand new recipes exclusively for the guide, which also includes some of our festive favourites. Lisa's recipes include a Bruschetta with California Walnuts and Stilton Pesto to start, a Butternut Squash, Sage, Onion and California Walnut Filo Parcels for main, along with a California Walnut and Mincemeat Frangipane Cake for dessert.
So what are you waiting for! Download our Festive Menu and get #ChristmasCracked
Top Tip: Once you've opened your bag of California Walnuts make sure to store them in the fridge, it will keep them fresher for longer!
For a step-by-step guide from Lisa on how to make her California Walnut and Mincemeat Frangipane Cake, check out her IGTV video:
View this post on Instagram