How to Eat for Your Age with award-winning dietitian Sian Porter
Making the right food choices is important regardless of your age. Enjoying your food and eating well as part of a healthy lifestyle will improve your health, wellbeing, and quality of life at any age but, as you age, your dietary requirements will change.
Vitamin D, fruit and vegetables, oily fish, lean protein, wholegrains, calcium containing foods, and plenty of water should always form the basis of your diet. It's not just about one food or one nutrient; it should be a whole diet approach.
Here, award-winning dietitian Sian Porter shares her top tips on how to eat for your age, with  California Walnuts.
 Teenagers
Teenagers have greater nutritional needs than any other age group. They need lots of calories, protein, vitamins, and minerals to maximise their growth and development as they go through puberty.
Keep your home healthy – provide snacks like a handful of walnuts (approx. 30g), yogurts, fruit-based milkshakes, baked beans and vegetable-topped pizza. Teenage rebellion can be expressed via food choices or behaviours, so it's important that you set a good example.
The UK National Diet and Nutrition Survey[1] reported low levels of calcium, iodine, iron, potassium, and zinc in girls and, to a lesser extent, boys aged 11-18 years, so it is important to ensure they eat plenty of iron-rich foods such as beans, lentils, eggs, dark green vegetables, lean meat, nuts and fortified foods (such as some breakfast cereals) should be encouraged.
To help the body absorb iron, they should also eat foods rich in vitamin C such as citrus fruits, peppers, tomatoes, berries, blackcurrants, salad leaves and green vegetables.
If you are worried about your teenager's eating habits, seek help from a health professional at the earliest opportunity.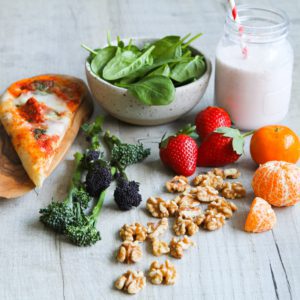 20s
At this age you may be busy finishing your studies, establishing your career and enjoying a hectic social life. Finding time to eat well may be a challenge, but it is important to avoid the trap of running on sugar, caffeine and alcohol.
Take a look at your snacking habits and avoid sugary, salty snacks high in saturated fat. A handful of walnuts (approx. 30g) is an ideal portable snack at every age. Walnuts are the only tree nut to contain a significant amount of the plant-based omega-3, alpha-linolenic acid (ALA), 2.7g/ 30g and a handful (approx. 30g) offers 4g of protein and 1.4g of fibre[2] too.
Aim to cook from scratch, choosing vegetables, wholegrains and lean protein more nights than takeaways, eating out, or meals on the run.
Until you reach your mid-twenties, your bone density will continue to increase so it is important to eat foods rich in calcium and vitamin D.
Women should also continue to pay attention to their iron intake.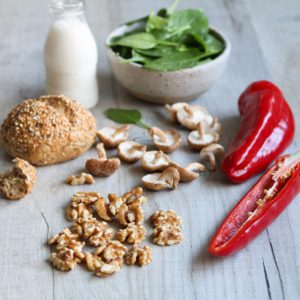 30s
By the time you hit your thirties, you are probably less active, but busier than ever juggling your work/life balance and family. Eating well will ensure you have the energy to cope with whatever life throws at you.
Folate is important for the immune system, building protein, normal psychological function and healthy blood.
It is especially important for women hoping to get pregnant. They should eat a folate-rich diet, meaning lots of dark-green vegetables such as spinach, cabbage, broccoli, Bok choy, Brussels sprouts, asparagus and dark salad greens such as rocket and watercress. Other dietary sources are wholegrains, fortified breakfast cereals (look for the words 'high in Folate' on the label), yeast extract (Vegemite, Marmite), oranges and other citrus fruit, sunflower and sesame seeds, eggs, and nuts, especially walnuts.
They should also take a folic acid supplement from three months before conception up to at least 12 weeks of pregnancy to cut the risk of having a baby with a neural tube defect (spina bifida) and for foetal growth.
Nuts, such as walnuts, can also be beneficial. A clinical trial found women who followed a Mediterranean-style diet during pregnancy, including a daily portion of tree nuts (half being walnuts) and extra virgin olive oil, had a 35 percent lower risk of gestational diabetes and on average, gained 2.75 pounds less, compared to women who received standard prenatal care[3].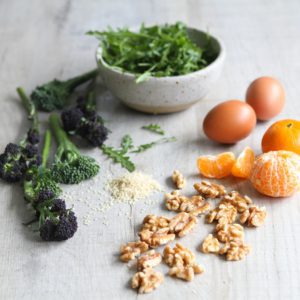 40s
Your risk of heart disease goes up in your forties, particularly for men, so now more than ever you want to make heart healthy choices.
Limit salt and eat potassium rich foods such plenty of fruit and vegetables, nuts, beans and lentils, oily fish and low-fat dairy to help maintain healthy blood pressure.
Choose unsaturated fats from plants, nuts and seeds such as olive oil, rapeseed oil, avocados and walnuts. Naturally very low in salt, walnuts are the only tree nut to contain significant amounts of omega-3 ALA (2.7g/30g) which contributes to the maintenance of normal blood cholesterol levels. California Walnuts have the heart-healthy seal of approval from the heart health charity, Heart UK and EFSA has approved the health claim that a handful of walnuts a day (30g) can have a positive effect on the elasticity of the blood vessels helping to keep the cardiovascular system healthy[4].
Eating whole walnuts as part of a diet low in saturated fat may help improve central blood pressure in those at risk for heart disease, compared to a low saturated fat diet with omega-3 ALA from vegetable oil[5].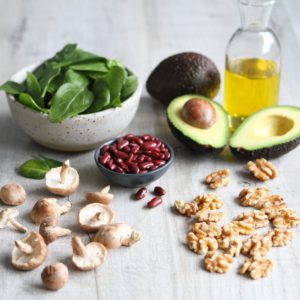 50s
In the UK, the average age for a woman to reach the menopause is 51. Bone density is lost during and after the menopause, sending the risk of osteoporosis shooting up.
It is important to ensure adequate calcium intake from dairy or fortified alternatives, fish with soft edible bones like tinned salmon or sardines, tofu, sesame seeds, broccoli, spinach and dried figs is a part of your daily diet.
You should also take part in weight-bearing exercises such as walking, running, climbing stairs, playing tennis, and dancing. Enjoy healthy snacks such as walnuts to keep your energy up. Walnuts are the only tree nut to contain a significant amount of the plant-based omega-3, alpha-linolenic acid (ALA), 2.7g/ 30g and a handful (approx. 30g) offers 4g of protein and 1.4g of fibre[6] too.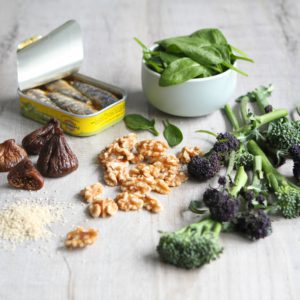 60s and beyond
We're living longer than ever before and eating well will help reduce your risk of disease and the aches and pains of older age. Older adults generally need fewer calories, but their nutrient needs are just as high, or higher, in the case of protein, than they were when they were younger.
Eating enough fibre alongside enough fluid and being active will help look after your gut. Foods such as beans, lentils, fruit, vegetable, nuts, wholegrains and seeds are sources of fibre.
A 2018 study in healthy adults found that eating walnuts resulted in an increase in gut bacteria thought to be beneficial for health[7].
Looking after your eye health is key. Leafy green vegetables such as spinach, kale, broccoli, and brightly coloured fruit and vegetables such as peppers, carrots, tomatoes, and mangos contain plant components that help look after your vision and slow down deterioration. Eat at least five portions a day – the more, the better – by including them in all meals and having them as snacks.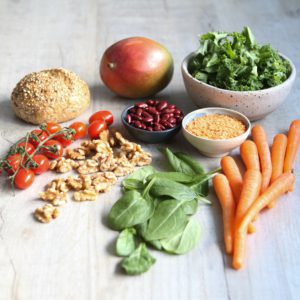 [1] https://www.gov.uk/government/statistics/ndns-results-from-years-7-and-8-combined
[2] Food Standards Agency (2002), McCance & Widdowson's The Composition of Foods, Seventh summary edition. Cambridge: Royal Society of Chemistry
[3] H. Al Wattar B, Dodds J, Placzek A, Beresford L, Spyreli E, Moore A, et al. (2019) Mediterranean-style diet in pregnant women with metabolic risk factors (ESTEEM): A pragmatic multicentre randomised trial. PLoS Med. 2019 Jul 23;16(7):e1002857. doi: 10.1371/journal.pmed.1002857. eCollection 2019 Jul.
[4] As part of a balanced diet and a healthy lifestyle https://efsa.onlinelibrary.wiley.com/doi/abs/10.2903/j.efsa.2009.1252;
[5] Tindall AM, Petersen KS, Skulas-Ray AC, Richter CK, Proctor DN, Kris-Etherton PM. Replacing saturated fat with walnuts or vegetable oils improves central blood pressure and serum lipids in adults at risk for cardiovascular disease: a randomized controlled-feeding trial. J Am Heart Assoc. 2019 May 7;8(9):e011512. doi: 10.1161/JAHA.118.011512
[6] Food Standards Agency (2002), McCance & Widdowson's The Composition of Foods, Seventh summary edition. Cambridge: Royal Society of Chemistry
[7]  Holscher HD, Guetterman HM, Swanson KS, An R, Matthan NR, Lichtenstein AH, Novotny JA, Baer DJ. Walnut consumption alters the gastrointestinal microbiota, microbially derived secondary bile acids, and health markers in healthy adults: a randomized controlled trial.  J Nutr. 2018 May 3. doi: 10.1093/jn/nxy004. doi: 10.1093/jn/nxy004