#SimplyCracked Holiday Inspiration: Spain
With the summer holiday season soon upon us, we wanted to help get you in the mood by sharing some interesting facts from some of the top holiday destinations visited from the UK, as well as some great recipes.
Topping the list with great weather, culture, and of course food, it's Spain! *. From Flamenco, to Sangria, there's so much to love about Spain but how many of these facts did you already know…?
Let's start with the foodie facts… Did you know that …
Paella is actually the name of the wide and shallow pan used to cook the dish in. It was traditionally made from chicken, rabbit and pork.
Eggs are not usually served for breakfast in Spain as they are kept for other meals. Churros (and the thick chocolate that goes with them) are the breakfast staple!
The worlds biggest food fight, aka La Tomatina, is held annually in August in the Valencian town of Buño. Thousands upon thousands of people attend from around the world and more than one hundred metric tons of over-ripe tomatoes are thrown in the streets.
Other fun facts about Spain you may not know ….
Although most stores and establishments still close between 2 and 5pm for siesta time, most people don't actually sleep during this time!
Things don't always start on time. Punctuality is still observed in Spain, however, being late is not considered disrespectful, especially in social gatherings.
Driving in flip-flops is illegal. In fact, driving in any type of sandal that doesn't have a strap around the back of the ankle is illegal. And driving barefeet is illegal as well.
Now you're in a Spanish mood, why not enjoy our new Vegetable & Walnut Paella recipe to bring that taste of Spain to your dinner table tonight!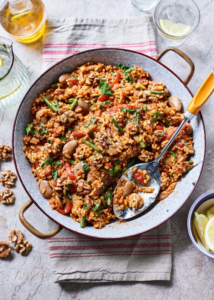 * Spain holidays are Brits' top choice for getaways in 2022, new rankings by ABTA have revealed.