Walnuts – a Christmas tradition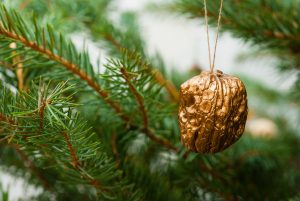 It's no wonder walnuts are often associated with wintertime as they have been a part of Christmas traditions for centuries, both culinary and decorative.
In fact, when Christmas trees started appearing in homes in the 18th century, nuts were used to decorate them, and on the 12th day of Christmas the family would crack them open and enjoy them together.
With festive traditions on our minds, we decided to have a look at how walnuts help people celebrate Christmas around the world…
GERMANY
Did you know that nutcracker dolls originate from late-17th century Germany, particularly the Ore Mountains region, with the jaw of a soldier or king used to crack the nuts. One origin story attributes the creation of the first nutcracker doll to a craftsman from Seiffen. … They grew in popularity around the 19th century and spread to nearby European countries and are now mainly used as decorations.
Meanwhile walnuts are also enjoyed in the traditional Christstollen (or simply Stollen), which originated in Germany, but like many things is now enjoyed worldwide.
ALBANIA
The traditional dish, Byrek me kingull dhe arre, is a pumpkin and walnut pie usually cooked on Christmas Eve in Albania.
CHILE
Another festive dish featuring walnuts can be found in Chile where the Pan de Pascua, a Christmas sponge cake flavoured with cloves, candied fruits, raisins and walnuts.
PUERTO RICA
Something a little different is the Puerto Rican dish, Dulche de cassabana, a musk cucumber cooked in syrup topped with walnuts and sour cream on the side.
ITALY
Italians are nearly as mad about walnuts as we are, so it is no surprise to hear that in some regions Christmas Dinner isn't complete without a first course of maccherino con noci e cacoa (yes that's right ir's macaroni with walnuts and cocoa!)
UK
Gilded walnuts make a very effective Christmas tree decoration and for centuries they have delighted children. As well as looking pretty, they were often decorated with a red ribbon and hung to the upper boughs of the Christmas tree with a hidden trinket to reveal – but not until New Year's Day.
We hope that however you are celebrating this year you get to enjoy your favourite traditions or make some new ones.
If you need some culinary inspirations make sure to click the button below to check out our festive recipe collection – featuring a whole host of mouth-watering ways to enjoy California Walnuts this festive season.