Trade Digital Advertising Campaign Christmas 2022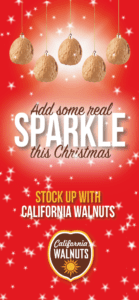 Keeping California Walnuts front of mind within the UK trade.
A Digital Trade advertising campaign focusing on Christmas messaging launched in October 2022.
The campaign promoted the unique attributes of California Walnuts with the focus on versatility, quality, origin and consistency.
Key messaging highlighted the health benefits relevant to the UK market and helped promote the importance of using quality ingredients in a range of products and dishes whilst encouraging ingredient and snack buyers to buy and supply California Walnuts for Christmas over and above other countries of origin and keep California Walnuts front of mind with UK buyers.
Several concepts were created encouraging the trade to 'Stock Up For Christmas'
For more details on how the California Walnut Commission can support the UK trade, click here.