Trade Digital Advertising Campaign Summer 2022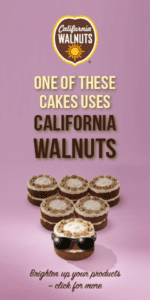 Keeping California Walnuts front of mind within the UK trade.
A Digital Trade advertising campaign focusing on Generic messaging launched in August 2022.
The campaign promoted the unique attributes of California Walnuts with the focus on versatility, quality, origin and consistency.
The campaign was targeted at key decision makers & trade buyers within Food Service, Bakery, Confectionery, Catering and Manufacturing, Wholesale & Retail with a potential reach 0f 1.2m.
Five ad concepts were created with three progressing into final adverts.
For more details on how the California Walnut Commission can support the UK trade, click here.