Share the Power of 3 this February
This February we are inviting everyone across the world to share the love for California Walnuts, with our brand new 'Share The Power of 3′ campaign. 
Walnuts are the only tree nut to contain a significant amount of the very important nutrient, omega-3 ALA (alpha-linolenic acid)* which is essential to heart health. And, as this is also National Heart Month here in the UK, there's no better time to enjoy California Walnuts and #ShareThePowerof3.
There is lots going on and we want everyone talking about California Walnuts. We're  teaming up with a number of friends who will be helping us #ShareThePowerof3, including The Food Medic, Tales of Annie Bean, Veggie Desserts, Hip and Healthy, Health & Wellbeing and Healthy Diet. We'd love you to be a part of our celebration too! It's easy to join in the fun and #ShareThePowerof3.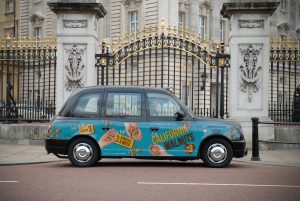 Why not try out some new California Walnut recipes and enter our competition, launching on 5th February, for the chance to win a Power of 3 California Walnuts kit. If you're out and about in London this month, you might also get to have a ride in one of our brightly coloured California Walnuts branded taxis!
Whatever your California Walnuts moments are this month, we'd love you to get social and share them with us! Make sure to use #ShareThePowerof3 in everything you post this month. As you'll see in our video, you will be joining a truly global celebration!
Walnuts are over 7,000 years old and were one of the first tree foods ever known to man. Internationally, California Walnuts supply two-thirds of the world's walnut trade. California Walnuts have a mild and creamy flavour and they are so versatile – you can use them to add extra taste and texture to a variety of dishes. Sprinkle them over cereal at breakfast, include in salads for lunch, add to pasta dishes for dinner or simply enjoy as a snack at any time of day, to start improving overall nutrition.
Let's all get sharing!