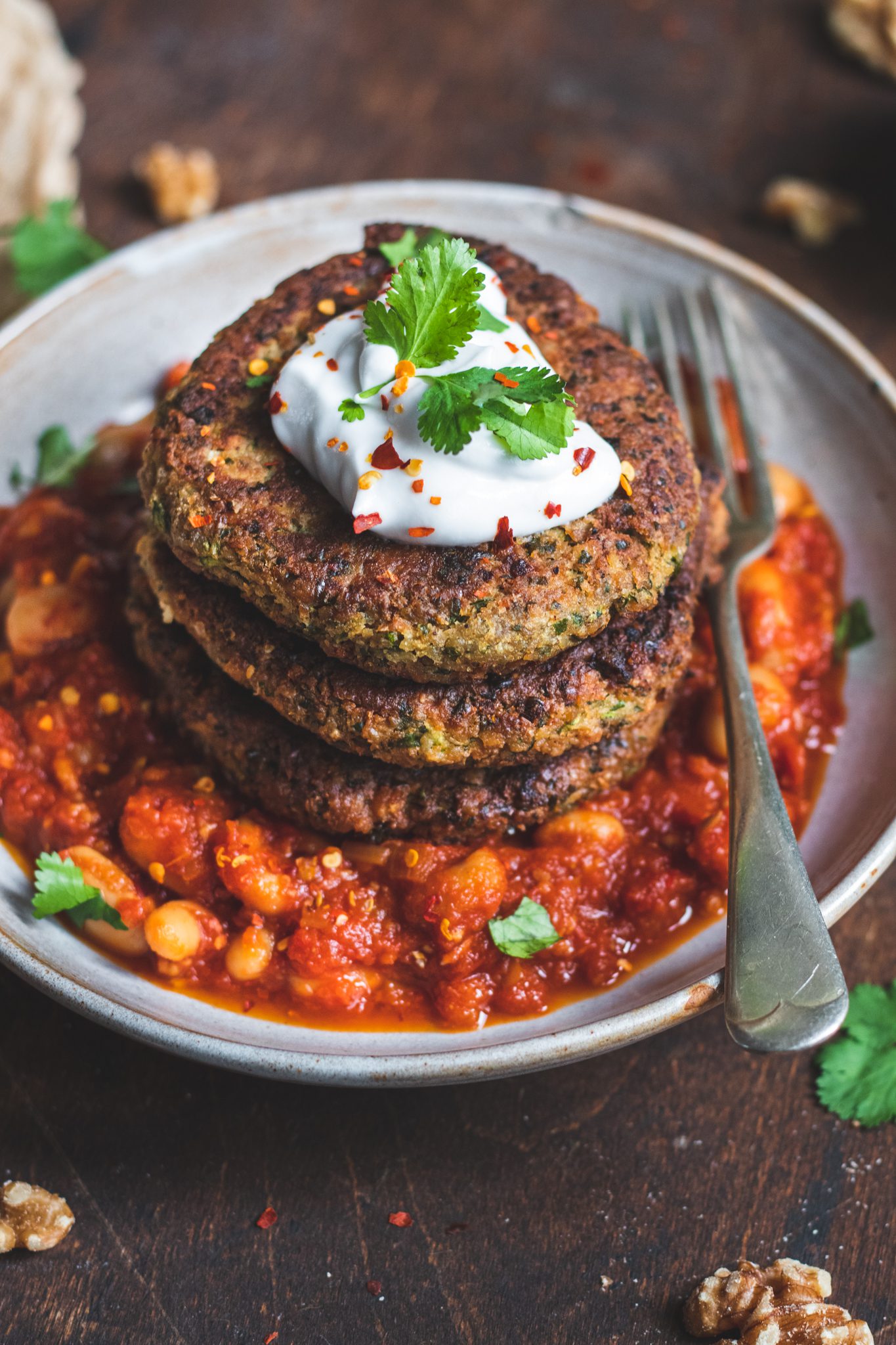 Chickpea & California Walnut Breakfast Rostis
Ingredients
100

g

California Walnuts

400

g

tin chickpeas - drained and rinsed

1

shallot - finely chopped

30

g

curly kale - chopped

Small handful fresh parsley or coriander

1

courgette - grated

1-2

tsp

dried mixed herbs

optional

50

g

gram flour

chickpea flour

4

tbsp

olive oil for frying

Salt and pepper to taste
To serve:
Smoky Baked Beans

Coconut yoghurt

Fresh coriander or parsley

to garnish

Chilli flakes
Instructions
Grind walnuts in a food processor for 30-60 seconds until it becomes a coarse crumb. Transfer to a bowl and set aside.

To the food processor, add the drained chickpeas and chopped shallot, along with fresh parsley or coriander and 1/2 tsp salt. Blend until the mixture is well combined, but not a paste. Add the ground walnuts and blend again until everything is fully incorporated.

Grate the courgette into a large mixing bowl, then stir in the walnut and chickpea mixture. Season with more salt and pepper to taste, and add the mixed herbs now, if using. Once the mixture is seasoned to your liking, stir in the gram flour.

In a large, flat-bottomed frying pan, heat the olive oil on a medium heat. While the oil heats up, form the mixture into patties, about 6-8 depending how thick or thin you make them.

Once the oil is hot, add the patties- as many as you can fit into the pan without them crowding each other. Fry for 2-3 minutes on each side until golden brown and crispy, then flip and cook for another few minutes, flipping a few more times until the rostis are cooked throughout- about 8-9 minutes. If they are thin, they'll cook faster, so adjust frying time accordingly. If the fritters are getting too dark, reduce the heat a little. Once cooked, transfer the rostis to a plate lined with kitchen towel to soak up any extra oil.

Serve with smoky beans and topped with coconut yogurt, fresh coriander or parsley, and a sprinkle of chilli flakes for extra heat.
Back to Recipe Search