BEING INSPIRED… Speciality & Fine Food Fair 2019.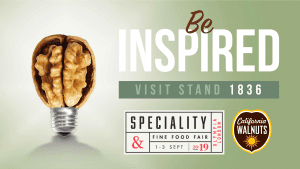 California Walnuts welcomed and encouraged visitors to 'Be Inspired' at the 20th Anniversary Speciality & Fine Food Fair. Visitors were treated to a first-hand experience of the superior quality, unique taste and versatility.
The California Walnut Commission (CWC) showcased a variety of retail products and offered the opportunity to sample CA Walnuts and also learn about what makes them so special. 'Light bulb' inspired creative, displayed at the entrance to Olympia via tree wraps, directed visitors to the CA Walnuts (the expo stand…).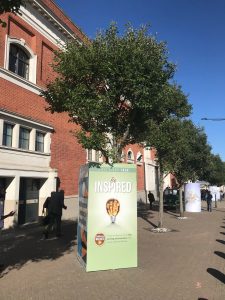 The walnut is the oldest tree food known to man, dating date back to around 7000 BC. Early history indicates that English walnuts originally came from ancient Persia, where they were reserved for Royalty. Fast forward to the 1700s, when the missionary Franciscan Fathers had the inspirational idea to cultivate the first walnuts in California.
Today, California is home to some 4,800 walnut growers – many of which are family businesses, producing two-thirds of global walnut supply. The nuts are grown with care, in perfect conditions and harvested from late August to November each year before being processed to the highest quality standards. It's this attention to detail that makes CA walnuts the best in the world.
Plant Based Inspiration
The growing trend for plant-based eating and healthier dietary choices, means that the interest in nuts is on the rise. Across mainland Europe, California Walnuts have made headway with leading food manufacturers, developing nut butters and integrating walnuts into cheeses, yoghurts, chocolates and confectionery. Looking ahead, California Walnuts' versatility makes them perfectly positioned to take advantage of the plant-based market. "Our ultimate aim," Peter Meadows on behalf of the CWC commented; "is to highlight the many ways you can enjoy California Walnuts, not only as traditional snacks and in baking, but in exciting new dishes and products."
Inspiring New Products
CWC supported the Whitworths' launch of a new range of snacks under the brand Gloriously Grown. These snacks feature the California Red 'Livermore' variety Walnuts and Sorbet Raisins and were displayed on the CA Walnut stand.
The UK CWC team has also recently been working with BNUTZ, the artisan nut butter producer, creating a product with California Walnuts as a core ingredient. BNUTZ use premium organic ingredients, ethically sourced and free from palm oil, preservatives and refined sugar.
Inspiring Good Health
For more than 25 years, the CWC has supported health-related research on walnuts investing close to $20 million in 11 countries, working with over 55 institutions and universities. More than 160 scientific publications have helped to provide knowledge and understanding of the unique health benefits associated with consuming walnuts. The results support health claims in both the EU and the US.
California Walnuts officially classify as a superfood, having won the 'Best Superfood' Gold Award in The Healthy Food & Drink Awards 2019. California Walnuts' health research has resulted in the EU confirming the European Food Safety Authority (EFSA) approved claim that a daily 30g handful of walnuts can have a positive effect on blood vessels' elasticity and keeping the cardiovascular system healthy, as part of a balanced diet and healthy lifestyle1.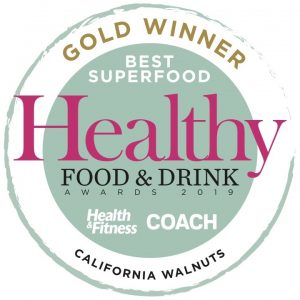 But that's not all. California Walnuts are nutrient dense and are the only tree nut to contain a significant amount of alpha-linolenic acid (ALA), the plant-based omega-3, essential fatty acid. As one of the best plant food sources of omega-3s, a 30-gram serving (roughly a handful) of walnuts provides 2.7 grams of ALA. In addition to essential ALA/omega-3 fatty acids, 30 grams also offers 4.4 grams of proteins, 1.4 grams of fibre2, as well as antioxidants and nutrients. To underline their health credentials, California Walnuts have the seal of approval from the heart-healthy cholesterol charity, Heart UK3.
Elena Attanasio, Event Manager of Speciality & Fine Food Fair, commented: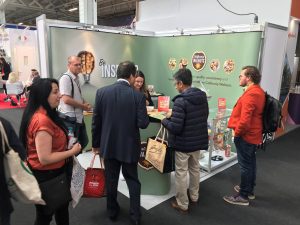 "We were really happy to welcome California Walnuts back to the Fair. Nuts are a major component of both the healthy eating and plant-food movement: California Walnuts offer retailers and hospitality business owners alike the perfect opportunity to take advantage of these key consumer trends with a premium snacking product or ingredient for sweet, savoury or meat-free recipes. The feedback on the creative for the tree wraps, situated outside of the Olympia National Hall, was incredible – extremely eye-catching. "
Be Inspired by the benefits and versatility… With so many benefits and great ways to use California Walnuts, it's time to discover California Walnuts for yourself.
For further information on California Walnut Commission, please make contact on 01628 535 755 or via email at trade@californiawalnuts.co.uk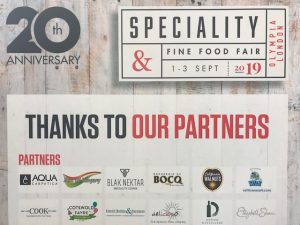 California Walnuts – a proud partner for the 20th Anniversary 2019 show.
1 EFSA Panel on Dietetic Products, Nutrition and Allergies (NDA); Scientific Opinion on the substantiation of health claims related to walnuts and maintenance of normal blood LDL‐cholesterol concentrations (ID 1156, 1158) and improvement of endothelium‐dependent vasodilation (ID 1155, 1157) pursuant to Article 13(1) of Regulation (EC) No 1924/2006. EFSA Journal 2011; 9( 4):2074. [19 pp.]. doi:10.2903/j.efsa.2011.2074.
2 Food Standards Agency (2002), McCance & Widdowson's The Composition of Foods, Seventh summary edition. Cambridge: Royal Society of Chemistry
3  https://www.heartuk.org.uk/healthy-living/approved-products