Get ready to be inspired by California Walnuts.
California Walnuts will be exhibiting at the 20th Speciality & Fine Food Fair held at London Olympia between Sunday 1st and Tuesday 3rd September 2019.
The California Walnut Commission (CWC) will be exhibiting at the show to both inspire and communicate with buyers looking for superior quality walnuts. During the show, visitors will have the opportunity to sample the walnuts from California to demonstrate the unique quality, taste, and versatility.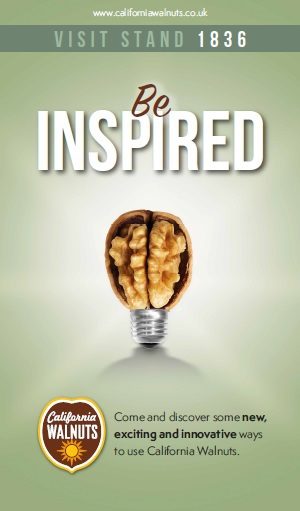 California Walnuts offer the UK market consistently high quality, versatile, great-tasting walnut. The Central Valley in California provides ideal conditions to grow superior walnuts. California Walnuts are lighter in colour, have a sweet-mild taste and a soft creamy texture which makes them a versatile ingredient for flavour profiles in recipes as well as processed products. California Walnuts go through stringent handling processes which sets them apart from other walnuts on the market – the CWC takes pride in providing high quality and year-round availability.
Nick Richardson comments on behalf of the CWC, 'we are keen to have the chance to interact with this specialised trade audience and update how California Walnuts can be used to inspire a range of products – sweet, savoury and meat-free. We will be providing a sample pack (30g) and an overview leaflet for all attendees who come and visit us during the show'.
Richardson continues, 'We want to encourage ingredient and snack buyers to seek out and offer California Walnuts to their trade customers. We want to promote the versatility of California Walnuts, highlight the advantages of using a quality ingredient, and also draw attention to the health benefits of eating a handful (30g) a day'.
Visit us on STAND 1836 to discover and sample the incredible quality, consistency, and versatility of smooth and creamy California Walnuts. Look out for our branded/wrapped trees on arrival to the Olympia hall.
For further information, please contact California Walnut Commission on 01628 535 755 or via email on trade@californiawalnuts.co.uk