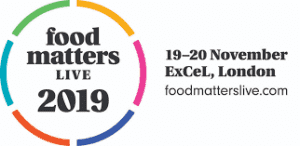 Thanks for visiting…
Food Matters Live 2019: California Walnuts embraced the plant-based movement.
The California Walnut Commission (CWC) exhibited at the Food Matters Live 2019 trade exhibition (on 19th and 20th November) at London ExCeL. The theme for the show was 'Be Inspired' and encouraged visitors to discover the incredible quality, consistency and versatility of smooth and creamy California Walnuts.
California Walnuts were the 'official 2019 plant-based supporter'.  The focus over the two days was to embrace the plant-based movement and showcase how California Walnuts can be used in a variety of ways.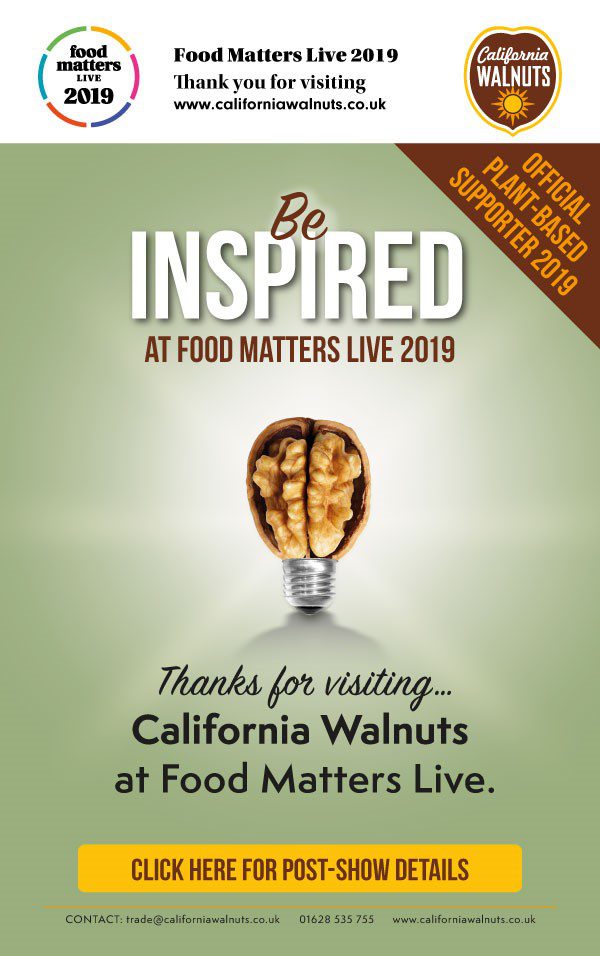 Q & A post-show follow-up…
1. How can I get a copy of the California Walnuts' Plant-Based Eating Resource Guide?
A: The guide can be downloaded as a PDF: CLICK HERE
2. How do I access the November Plant-based 'Table Talk' article featuring  CWC's Pamela Graviet, Senior Marketing Director, International?
A: The Food Matters Live 'Table Talk' article can be viewed here: "California Walnuts embrace the plant-based movement and comment on the developing trend in 2019"
3. Can I get a list of the California Walnut Handlers and make contact with them?
A: Yes. Please visit the Handlers List page. Should you wish to receive a list of the UK importers, please contact us. 
4. Where was the CWC Stand located at the show?
A: The CWC Stand (No. H18) was located within the International Innovations section: CLICK HERE 
Nick Richardson, from The Garden Marketing & PR, the trade representative for California Walnuts in the UK, comments on the show:
"We encouraged our Stand visitors at Food Matters Live to taste California Walnuts and to consider how they can be used in a variety of dishes and other NPD plant-based applications. California Walnuts are a great option for a plant-based diet, as they deliver protein, fibre and a variety of micro-nutrients.
One of our core messages at the show was to update that Walnuts are 'the only tree nut to contain a significant amount of alpha-linolenic acid (ALA), the plant-based omega-3 essential fatty acid'. A 30 gram serving of walnuts provides 2.7 grams of ALA. In addition to essential ALA/omega-3 fatty acids, 30 grams of walnuts (a handful) offers 4.4 grams of protein and 1.4 grams of fibre.
It was a positive show for California Walnuts, with a number of trade introductions which we'll follow up."
For further information, please contact the California Walnut Commission on 01628 535 755 or via email at trade@californiawalnuts.co.uk.