UK Newsletter
Autumn/Winter 2022.
A LOOK BACK AT THE PAST FEW MONTHS… 
The California Walnut Commission (CWC) has been actively promoting its products in the UK since 2016 and continues to educate both consumers and the UK trade about the benefits of purchasing premium quality walnuts from California.
Despite some challenges regarding shipping delays throughout 2022, UK demand for California Walnuts remains encouraging. September to December 2022 shipments have shown an 87% increase to almost 4m shelled pounds despite a decrease of 90% in in-shell pounds.
Read the full update Here.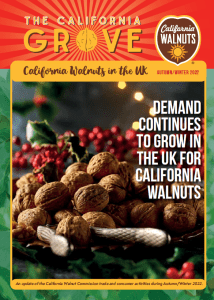 For further information on California Walnuts, please make contact on 01628 535 755 or via email at trade@californiawalnuts.co.uk