UK Newsletter
Spring 2021.
A LOOK BACK AT THE PAST FEW MONTHS… 
The California Walnut Commission (CWC) has been actively promoting its products in the UK since 2016 and so far, during 2021 and despite the pandemic, container supply issues and Brexit, imports to the UK have been encouraging.
Shipments to the 30th of June highlighted a year-on-year increase for 'shelled' California Walnuts of 32.20% to 10,862,179 pounds (versus 8,216,515 in 2019/20). As of June 2021, the UK remains the 3rd largest market for California Walnuts in Europe behind Germany and Spain.
Read the full update in the newsletter.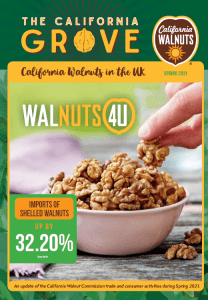 For further information on California Walnuts, please make contact on 01628 535 755 or via email at trade@californiawalnuts.co.uk