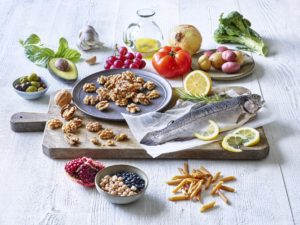 A Healthy Taste of the Mediterranean
For those looking to support their health with delicious holiday-inspired food, the Mediterranean diet – which typically includes plenty of fruits, vegetables, legumes and pulses, as well as nuts, whole grains, fish and unsaturated fats such as olive oil – is an ideal choice.
How can a Mediterranean diet help?
Research shows that a Mediterranean diet including tree nuts, primarily walnuts, was associated with a 30% lower risk of cardiovascular events (heart attack, stroke, or death) and specifically a 46% lower risk of stroke, when compared to a low-fat diet.[1]
What role do walnuts play?
Healthy fats are a vital part of the Mediterranean diet, with oily fish, nuts and seeds key ingredients for getting the recommended daily allowance of omega-3 fats. Walnuts are in fact the only tree nut to contain a rich source of the plant-based omega-3, alpha-linolenic acid (ALA), 2.7g/ 30g* and one handful offers 4.4g of protein and 1.4g of fibre
How can you enjoy more California Walnuts?
California Walnuts are not only healthy, but also extremely versatile and add great taste and texture in all kinds of recipes. Why not try one of our dishes inspired by holiday locations from across the Mediterranean, like our Grilled Seabass with Walnut Greek inspired Salsa, Spanish inspired Vegetable and Walnut Paella or Turkish inspired Bean Salad with Walnuts.



[1] Estruch R, Ros E, Salas-Salvadó J, Covas MI, Corella D, Arós F, Gómez-Gracia E, Ruiz-Gutiérrez V, Fiol M, Lapetra J, Lamuela-Raventos RM, Serra-Majem L, Pintó X, Basora J, Muñoz MA, Sorlí JV, Martínez JA, Fitó M, Gea A, Hernán MA, Martínez-González MA; PREDIMED Study Investigators. Primary Prevention of Cardiovascular Disease with a Mediterranean Diet Supplemented with Extra-Virgin Olive Oil or Nuts. N Engl J Med. 2018 Jun 21;378(25):e34. doi: 10.1056/NEJMoa1800389. Epub 2018 Jun 13. PMID: 29897866.
*one handful