3 Cholesterol Friendly Recipes from California Walnuts
Cholesterol is a fatty substance found in your blood but having too much of it can cause serious health problems. National Cholesterol Month aims to raise awareness about cholesterol and educate on the positive lifestyle changes we can make to help keep our cholesterol levels healthy.
"Cholesterol is a blood fat that plays a vital role in how our cells work" comments Registered Dietitian and Dietic Advisor to HEART UK, the cholesterol charity, Lynne Garton. "Too much cholesterol in the blood can lead to diseases of the heart and blood vessels. Anyone can have high cholesterol whether you're young, slim or otherwise healthy; it can be caused by lifestyle or be inherited, and most people don't know they have it, which is why it is important to know your cholesterol numbers . Making some simple lifestyle changes can keep cholesterol levels healthy, for example eating a well-balanced diet can make a huge difference".
To help those looking to enjoy a cholesterol-friendly diet, we have created three delicious new recipes to try. From Lentil and Vegetable Stew, packed full of vegetables it makes a nutritious, tasty dinner for Autumn nights. The Yellow Split Pea and Walnut Soup is perfect for those looking for a nourishing lunch that only takes ten minutes to prepare. For those looking for a sweet treat, the Pear and Walnut Crumbles combine seasonal pear with fiery ginger for an irresistible dessert without the guilt.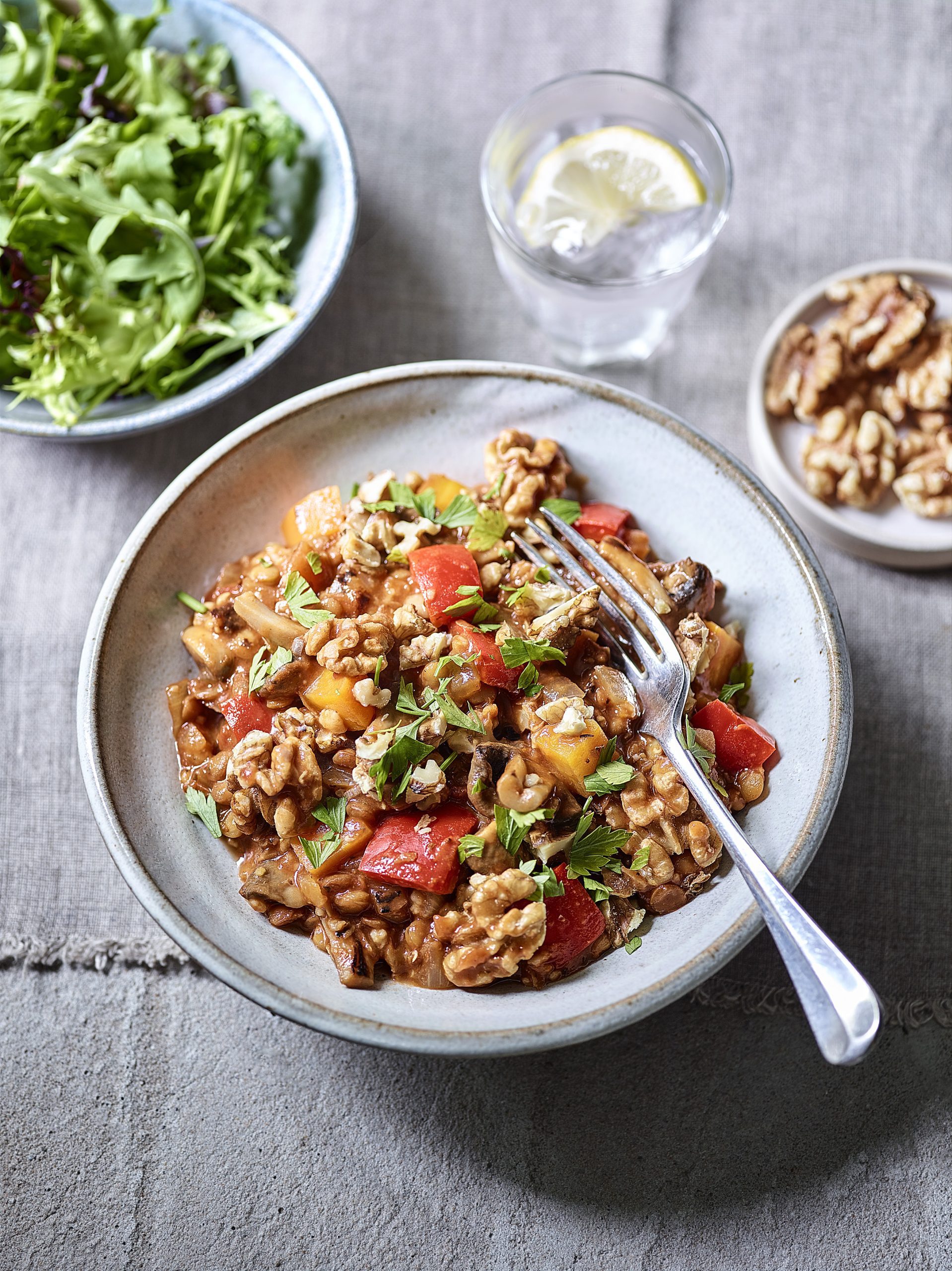 Lentil and Vegetable Stew
Servings 4

Calories 356kcal
Ingredients
1 tbsp olive oil
1 onion chopped
2 carrots diced
1 red pepper diced
2 cloves garlic crushed
1 tsp dried mixed herbs
3 tbsp oats 30g
300 g mushrooms quartered
75 g California Walnuts roughly chopped
400 g can chopped tomatoes
400 g can lentils
500 ml vegetable stock
Chopped parsley to garnish
Instructions
Heat the oil in a large saucepan and fry the onion, carrot and pepper for 5 minutes. Stir in the garlic, herbs, oats, mushrooms and Walnuts and fry for 1-2 minutes.

Stir in the tomatoes, lentils with the juice form the can and stock, bring to the boil, uncovered and simmer for 20 minutes. Sprinkle with parsley to garnish.
Cooks tip
Try using diced aubergine, sweet potato or squash or use a pouch of Puy lentils instead of the canned.
Nutrition
Serving: 4g | Calories: 356kcal | Carbohydrates: 30g | Protein: 13g | Fat: 18g | Saturated Fat: 2.4g | Fibre: 11g | Sugar: 13g

Back to Recipe Search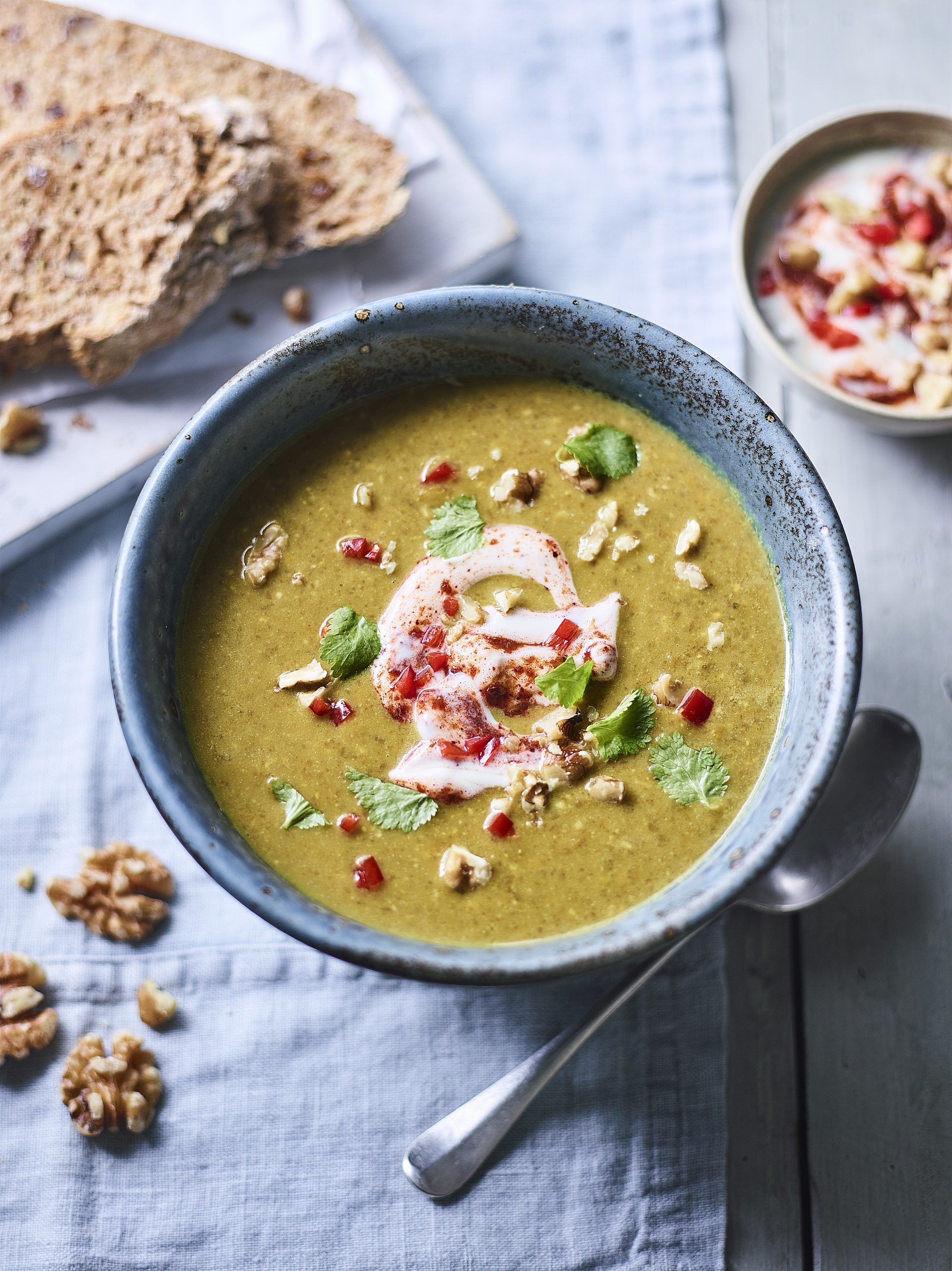 Yellow Split Pea & Walnut Soup
Servings 4

Calories 440kcal
Ingredients
1 tbsp olive oil
1 onion chopped
2 cloves garlic crushed
2 tsp ground coriander
1 tsp ground turmeric
2 vegetable stock cubes
250 g dried yellow split peas
50 g California Walnuts chopped + 15g
4 tbsp plain soya yogurt
2 tsp harissa paste
1 red chilli deseeded and finely chopped
Instructions
Heat the oil in a large saucepan and fry the onion for 3-4 minutes, add the garlic, coriander and turmeric and fry for 1-2 minutes. Dissolve the stock cubes in 1.5 litres boiling water. Stir the split peas, 50g Walnuts and stock into the pan, cover and simmer for 45 minutes or until the split peas are tender, season to taste. Puree with a stick blender until smooth.

Stir together the yogurt, harissa, half the chilli and half the remaining Walnuts.

Pour the soup into bowls and drizzle with the harissa yogurt, sprinkle with remaining chilli and Walnuts to serve.
Cooks tip
For a coarse texture to the soup, blend half and stir back into the rest of the soup. Try adding chopped coriander just before serving.
Nutrition
Serving: 4g | Calories: 440kcal | Carbohydrates: 43g | Protein: 19g | Fat: 19g | Saturated Fat: 3g | Fibre: 8.6g | Sugar: 5.4g

Back to Recipe Search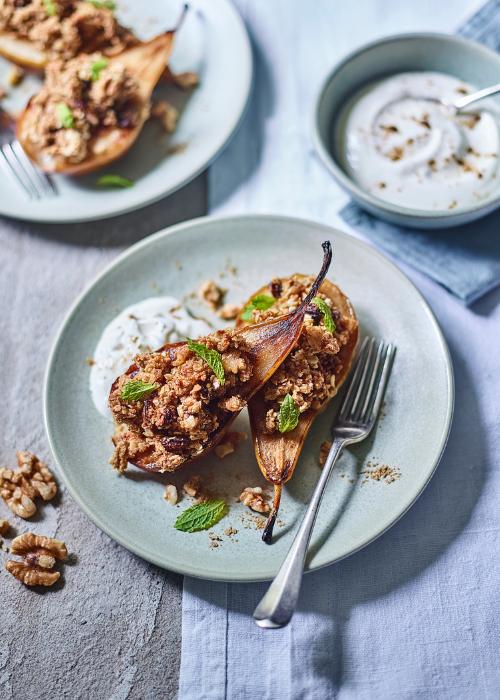 Pear and Walnut crumble
Servings 4

Calories 322kcal
Ingredients
50 g wholemeal flour
1 tbsp light muscovado sugar
1 tsp ground ginger
25 g sunflower spread
50 g oats
25 g California Walnuts chopped + extra to serve
25 g raisins
2 tbsp plain soya yogurt + extra to serve
½ tbsp sunflower oil
4 Conference pears halved and cored
Instructions
Preheat the oven to 200oC, gas mark 6.

Mix together the flour, sugar and ginger in a bowl, add the sunflower spread and rub in with your fingertip to give coarse breadcrumbs. Stir the oats, Walnuts and raisins. Mix in 2 tbsp yogurt and set aside.

Heat the oil in a large frying pan and fry the pears, cut side down for 3-4 minutes until golden and caramelised, transfer to a medium roasting tin, cut side up so that they fit in snuggly. Press on the Walnut crumble mixture. Add 3 tbsp boiling water to the tin and bake for 15-20 minutes, or until golden and the pears are tender.

Serve with extra yogurt and Walnuts sprinkled over.
Cooks tip
Try with dessert apples instead of pears or swap the ginger for cinnamon.
Nutrition
Serving: 4g | Calories: 322kcal | Carbohydrates: 42g | Protein: 5.9g | Fat: 13g | Saturated Fat: 1.9g | Fibre: 7.7g | Sugar: 25g

Back to Recipe Search