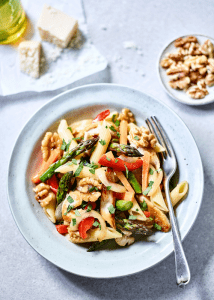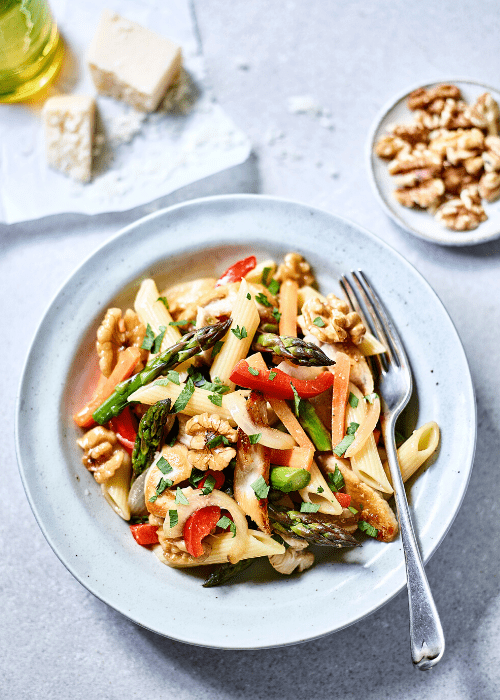 Fabulous family meal ideas
All of a sudden you may have noticed that family meal times during the week are a bit of a rush again – which we know can be stressful – and quick and easy nutritious dinner options (that the kids will enjoy too!) may be just want you need to help you get back into a routine to ease that evening rush. 
So, to help, we've rounded up some of our family favourite recipes which are super simple to make.
Each dish incorporates a handful of California Walnuts, which are the only tree nut that are an excellent source of Omega-3 ALA*, an essential plant-based fatty acid that must come from food – the body cannot make it.
So, give these meals a go for smiling faces all round!
Miso Walnut & Chicken Stir Fry
Ready in just 10 minutes, this Miso Walnut & Chicken Stir Fry is the perfect option for a quick meal during the mid-week dinner rush. It's great served with rice or noodles and works equally well with pork fillet too.
Spring Vegetable, Chicken & Walnut Pasta
This pasta dish is a guaranteed winner in terms of quickness and deliciousness. The California Walnuts give added crunch and flavour, as well as an Omega-3 boost, for a healthy dinner the kids will enjoy tucking into time and time again.
Citrus Salmon & Walnut Rice Salad
A simple salad recipe that combines citrus flavours with the nutty notes of California Walnuts. The beauty of this dish is that you can use a microwavable pouch of your favourite rice (we've used brown basmati but all types of rice work well) and it can be ready in under 10 minutes!
Orzo with Roasted Squash, California Walnuts & Sun-Dried Tomatoes
This recipe takes a little bit longer (25 minutes) but is worth the wait. Packed full of delicious colours and flavours, this Orzo with Roasted Squash, California Walnuts & Sun-Dried Tomatoes is simple and lip-smackingly tasty.
Orzo with Roasted Squash, California Walnuts & Sun-Dried Tomatoes
Citrus Salmon & Walnut Rice Salad
Spring Vegetable, Chicken & Walnut Pasta
Miso Walnut & Chicken Stir Fry
* Walnuts are the only tree nut to contain a significant amount of the plant-based Omega-3, alpha-linolenic acid (ALA), 2.7g/ 30g (approx. a handful)