#SimplyCracked Holiday Inspiration: Greece
We're continuing our journey, sharing great recipes as well as interesting facts from some of the top holiday destinations visited from the UK, to help get you ready for the summer season, and next stop on our tour is Greece!
So, let's start with the foodie facts… Did you know that …
One of the most iconic Greek foods is moussaka, a combination of minced meat, potatoes and aubergines topped with a creamy layer of bechamel sauce. Other famous Greek dishes include souvlaki, tzatziki, cheese pie, spinach pie, and Greek salad.
Greece is the 3rd largest olive oil producer in the world and the biggest exporter of extra virgin olive oil.
The biggest meal in Greece is usually lunch. Dinner isn't eaten until after 9 pm and is usually a lot lighter.
Other fun facts about Greece you may not know ….
Greece has the longest coastline in the Mediterranean and one of the longest coastlines in the world.
The Yo-yo was invented in Greece.
Greece has more archaeological museums than any country in the world.
Now imagine yourself on the Greek coast, in a lovely tavern surrounded by friendly locals and enjoy our new Grilled Sea Bass with Walnut Greek Salad recipe to bring that taste of Greece to your dinner table tonight!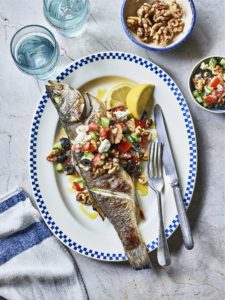 If you're looking for more holiday inspiration, check out our other blogs on Spain, France, Portugal and Italy!